Christopher Simmons ("Christopher Laird Simmons") is an American musician who began recording original electronic music in 1982 under the moniker "BLUETOY." His music has been widely played on "space music" radio shows, used for two cable TV series intro/outro themes, and widely reviewed in numerous national print publications in the music industry during the 1980s. His most notable works are "Reinventing the Wheel Without a Third Eye" and "BESERKER." He is also the founder of Neotrope® Records.
---
Biography: A Musical Journey
TABLE OF CONTENTS:
---
NOTE: External links will be identified with icon and open in new browser tab.
---
Introduction
The following biography has a distinct focus on Christopher Simmons' music-industry journey and does not delve into his many other lives in the marketing, graphic and web design, digital imaging and 3D, technology journalism or publishing fields too deeply. However, a small sampling of his achievements are noted below for a quick reference.
Simmons has some minor notoriety in other fields, having a design/communications award from Apple Computer, and a "best of show" photography award. He was well known for creating the popular fanzines "The Adama Journal" for original Battlestar Galactica TV series, and "Galaxy Class" for Star Trek the Next Generation (TNG). He has created over two dozen magazine covers for national print publications in the technology and imaging sector. His self-published "Unicorn Hunters Guidebook" was featured in Playboy magazine in 1982. He has written for numerous publications starting with his "first sale" to Polyphony magazine in 1984, reviewing the hardware/software based MIDI sequencer, the Sequential Circuits Inc. Model 64. He has also written for Digital Imaging, Computer Player, Spazz, and the Graphic Artist Guild newspaper. He was included in several editions of Marquis Who's Who in the 1990s.
His digital artwork series created in 1993-94, FRACTOPIA™, appeared in the city-wide BYTES OF ART exhibit in San Francisco, and was used for cover of the Fall 1997 Cal State Long Beach (CSULB) Science and Technology course catalog. From the series, his "Fireonice" artwork was used for the cover of his CD re-release of BESERKER in 2000. He published a coffee table hardcover art book of his work in 2008, as "Fractopia | The digital visions of Christopher Laird Simmons" (Neotrope Press; ISBN: 978-0971055506).
Simmons is a member of ASCAP and the PRSA (Public Relations Society of America), former member of the Graphic Artist Guild and National Writers Union, and served on the PRSA "Excellence in Technology Journalism" awards panel for three years. He has been widely interviewed on technology and marketing topics, including three times by Entrepreneur magazine, twice by PC World, and quoted in the L.A. Business Journal, and appeared on many podcasts including Publishing Basics Radio and JackStreet Live. He has been on the launch team for numerous successful businesses including PhotoVentures, MacMall, FindWhat, and his own company S.U. Productions/S.U. Graphics (renamed Mindset Communications in 1987 and then NEOTROPE® in 1999). His spin-off business, Send2Press® launched in 1997 and given dedicated website in 2000 was named "best overall" newswire service by Fit Small Business in 2020. Neotrope made the INC 5000 list in 2009.
Christopher is one of the quoted music and marketing experts in "The Artist's Guide to Success in the Music Business" (ISBN: 978-1608325788; Greenleaf), and also "Music Business For Dummies" (ISBN: 978-1119049654; For Dummies), both by music industry and marketing guru Loren Weisman.
But that's enough about all of that 🙂
The Early Years:
Christopher Simmons first became interested in music early in life when mom bought the kids a set of toy percussion and music instruments. This included a flute, maracas, wooden claves, castanet and tambourine. As a plucky cat-like four year old, Chris loved playing with these, and by age six was playing along with The Moody Blues songs like "Ride My Seesaw." Dad, a college professor, loved to play the bongo drums (it was the 1960s), so Chris early on fell in love with all kinds of percussion instruments before ever seeing a piano or organ in person. Ironically this practice made him an expert at playing with "clackers" resin-ball toys circa 1970. Listening non-stop to the first three Moody Blues albums also planted seeds for love of Mike Pinder's Mellotron.
His first real interest in electronic music came around 1971-72 when going on a school trip to the California Science Center in Los Angeles, and while other kids wandered around the exhibits, Chris was enthralled by a stand up Theremin housed in a big dome you could stand in and wave your arms around to make sounds. Chris spent the entire trip hogging that one display and saw nothing else on that trip.
His interest in electronic music accelerated with the release of the "A Clockwork Orange" soundtrack by Wendy Carlos in 1972. Soon, Chris was buying one of his first albums with his own money, Stevie Wonder's classic "Innervisions" in 1973 (age 11) along with Emerson Lake & Palmer's "Brain Salad Surgery." And then mom buying Isao Tomita's "Snowflakes Are Dancing" in 1974. This led onward to buying "Phaedra" by Tangerine Dream in 1974, discovering solo work by Edgar Froese the same year; the soundtrack to "Logan's Run" by Jerry Goldsmith in 1975, and Gary Wright's "The Dream Weaver," also in 1975. The same year he also discovered Larry Fast (aka SYNERGY®). He also rediscovered the soundtrack to "Forbidden Planet" by Bebe and Louis Barron. These were first step gateway drugs to Rush, and many others as the 1970s gave way to to the 1980s electronic music, techno, and bands like Depeche Mode, Sparks, Yazoo and the like.
When Christopher finally got to making music (read on below!), Edgar Froese actually turned out to be more of an influence than expected due to the use of non-standard percussion, single note backing elements often on organ, chords, and various leads, even use of vocoder. Listening to a lot of Christopher's early work, and then Froese's "Beyond The Storm" compilation would draw a number of comparisons, even if Christopher's early work was an entirely amateur production in pre-DAW era.
First Synthesizers and Keyboards:
In 1975 Christopher's mom gave him a choice of a used synthesizer keyboard a family friend had, or buying a 35mm SLR from pawn shop to learn photography. Chris played with the synth (a Roland SH-3 or SH-5) for a week, then decided to opt for the camera as this was a more practical skill for a 13 year old to start to pickup as part of his interest in the creative arts (he wanted to, very briefly, become a comic book artist – and anecdotally, a pencil drawing he did of Galactus was put up in the Marvel bullpin/break room). He later went on to do rock band, real estate and product photography professionally in the 1980s and 1990s using his trusty Fujica ST701 SLR, and planted the seeds to become a Photoshop-guru in 1993.
Around this time, mom had a friend give him about a week of piano lessons before the family friend flaked. What Chris learned most from the lessons was that he had a gift for improvisation, and would play "Heart and Soul" but completely improv all the right hand parts. As he was learning graphic design and photography, this whole "music thing" went on the back burner for a bit.
A couple of years later (1978), after some prodding, mom bought Chris (ahem, "the family") a Montgomery Ward organ on sale for $1,100. He had wanted the mono Moog synth up top (a MinitMoog) which was advertised option, but that was outside the budget (the Moog was $399 in 1978 money; which today would be $1,800). He would end up playing this every night after dinner and funnily sometimes folks walking their dog at night would stop to listen. The organ was very cool because it had auto-accompaniment for holding down one note to play bass while improvising, and a funky analog drum machine where you could hold down two buttons to mix things like bossa nova and rock (and the start of his love affair with drum machines). This also began the love of the "chorus" sound of a rotating speaker set to slow mode in Christopher's forever music DNA. The organ was something he'd always wanted after becoming a huge fan of Rod Argent (founder of band Argent) from the song "Hold Your Head Up" (1972) among others, and of course Steppenwolf's classic "Magic Carpet Ride" (1969).
During the Summer of 1979, Christopher took advantage of an opportunity to intern with Robin Taylor's mobile recording studio, Darkstar Recording in Long Beach, California, which was run out of the back of a Ford Econoline van. The custom mixing board could be run from the van, or carried into an indoor or outdoor venue. Over a couple of months, he learned to align tape heads on an 8- and 16-track recorder, run 1/4-inch audio snakes up to 100-feet in length, test sound levels and ride mixer sliders during recording of live bands.
Christopher's first synthesizer, was the Sequential Circuits Inc. (SCI) Pro-One which Chris pre-ordered when first announced and took possession the day it hit Los Angeles music stores in 1981. He purchased a TEAC A3340S reel to reel recorder with the help of Darkstar's founder. Early experiments with the Pro-One included recording a bass track using the arpeggiator, then taking the output from tape to trigger a different bassline using the Pro-One audio input trigger. (Some of this early experimental work on 4-track ended up much later on Chris' "Bred for the Basement" cassette release.)
Chris very briefly owned a gently used Korg Mono/Poly that the music store was trying to get him to buy instead of his preorder for the new 6-voice synth from Sequential. After a couple weeks playing with it, he chose to stick with his original plan (he recorded nothing with the Mono/Poly for no other reason than lack of time). So, his first new polyphonic synthesizer was the SCI Prophet-600 which he purchased also the day it came out in late 1982 (early 1983?). The Prophet-600 was one of the first MIDI-capable synthesizers on the planet. At the same time he purchased the Korg KPR-77 Programmable Rhythmer (drum machine). This greatly expanded Chris' ability to record to 4-track with wider palette of sounds and adding rudimentary sequencing on the Prophet-600.
Quite a bit of Chris' early audio experiments were primarily the Pro-One, Prophet-600, KPR-77, and a Roland/Boss CE-2 stereo chorus pedal and Boss BF-2 flanger pedal. His mixer was a small hand-built 4 channel rotary analog affair built by Robin Taylor who had also built the large 32-channel console by hand for Darkstar's mobile and studio recording setup. He had a Marlboro guitar amp and Quadra Sound Blender II (QSB) for spring reverb, and tremolo effects.
The Recording Years
Christopher began recording more consistently once his kit expanded with the KORG Poly-800 analog synth (released 1983), SCI Drumtraks drum machine (released in 1984) and KORG VC-10 Vocoder (at this point, the VC-10 was the only "used" gear Simmons had purchased, other than the TEAC A3340S).
—–under construction Spring/Summer 2023 — 🙂
The Band Years
—–under construction Spring/Summer 2023 — 🙂

Biography is Copr. © 2022-23 by Christopher Laird Simmons – all rights reserved.
---
This entire page under construction 2023.
Please come back soon. Photos and audio pending!
---
Christopher Simmons Discography:
Shown in reverse date order, newest release at top.
---
BESERKER [V3]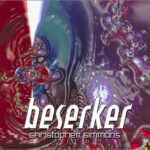 CHRISTOPHER SIMMONS [2000] — Third release of Simmons' electronic music demos album, with mild mastering, almost 15 years after original release. One original track removed ("Sherocks") and replaced with the "Densitelemetry" track at the end. Distributed via CDBaby, including to AMAZON and major streaming platforms.
• Commercial CD with barcode, ISRC code embeds, shrink wrapped. Neotrope Records.
• SKU: 80153-00101-2-1 / EAN: 801530010121 / Made in Canada.
SO WHAT IF I DIDN'T QUITE MAKE IT BIG IN THE 20TH CENTURY
CHRISTOPHER SIMMONS [1999] — Best of compilation of all of Christopher Laird Simmons' electronic music.
• Limited Edition "Multimedia CD" release which contained a computer-readable data folder with track info, poster and photos. Neotrope Records.
TECHNO SKETCHES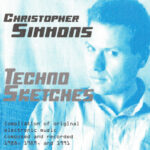 CHRISTOPHER SIMMONS [1998] — Compilation of original electronic music composed in 1988, 1989 and 1991.
• Limited Edition on-demand CDR release (inkjet printed clear CDR with 2-page CD-case insert). Neotrope Records.
BESERKER [V2]
CHRISTOPHER SIMMONS [1986/87] — SECOND RELEASE; NEW 4-COLOR ARTWORK ON GLOSSY CARDSTOCK J-CARD.
• 60 minutes, cassette format release. Bang Big Recordings (BBR).
REINVENTING THE WHEEL WITHOUT A THIRD EYE [V2]
CHRISTOPHER SIMMONS [1986/87] — SECOND RELEASE; NEW 4-COLOR ARTWORK ON GLOSSY CARDSTOCK J-CARD.
• 90 minutes, cassette format release. Bang Big Recordings (BBR).
BESERKER
BLUETOY [1986] — Latest and final release as "BLUETOY," from the 1980s, utilizing state-of-the-art music equipment including digital.
• 60 minutes, cassette format release. S.U. Productions.
• Original SKU #SUP8507B normal bias; #SUP8507C chrome cassette.
BRED FOR THE BASEMENT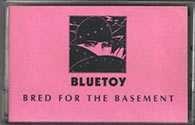 BLUETOY [1985] — Early 4-Track and improvisational pieces, recorded in 1983 and 1984 before Simmons' later works, as well as various "beasement tape" recordings.
• 60 minutes, cassette format release. S.U. Productions.
• Original SKU #SUP8506B normal bias; #SUP8506C chrome cassette.
REPETITIVE RHYTHMS FOR A PLANET THAT DOESN'T KNOW ANY BETTER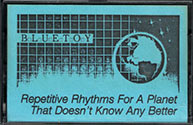 BLUETOY [May 1985] — Highly rhythmic! Positive review in CAMERA OBSCURA.
60 minutes, cassette format release. S.U. Productions.
• Original SKU #SUP8405B normal bias; #SUP8405C chrome cassette.
TWO OF RECKLESS
KLEFFEL/SIMMONS PROJECT [1984] — Two artists of different expression merge their talents for many captivating voyages to far off worlds and levels of awareness. Inspired by Tangerine Dream, Klaus Schulze and many other European artitsts.
• 60 minutes, cassette format release. S.U. Productions.
• Original SKU #SUP8404B normal bias; #SUP8404C chrome cassette.
DANCERS IN THE TRANCEGLOW
BLUETOY [July 1984] — Tape of music specially created in many dimensions for relaxation and meditation. One 30 minute piece, one 15 minute piece, and several shorter relaxation pieces. A headphone experience!
• 60 minutes, cassette format release. S.U. Productions.
• Original SKU #SUP8403B normal bias; #SUP8403C chrome cassette.
REINVENTING THE WHEEL WITHOUT A THIRD EYE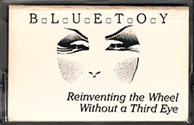 BLUETOY [1984] — Unique musical journeys, expressions and interludes. Excellent reviews in POLYPHONY, CAMERA OBSCURA and ALTERNATIVE RHYTHMS magazines.
• 90 minutes, cassette format release. S.U. Productions.
• Original SKU #SUP8402B normal bias; #SUP8402C chrome cassette.
OSCILLATIONS UNKNOWN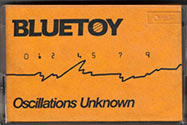 BLUETOY [1984] — The earliest work released by this music project. Includes soundtrack-style pieces, jazzy experimentation, and avant-garde expression unique and unlike anyone else's music.
• 60 minutes, cassette format release. S.U. Productions.
• Original SKU #SUP8401B normal bias; #SUP8401C chrome cassette.
---
Additional Recordings:
---
Camera Obscura Sampler Volume 2
Summer 1988 – Simmons' Music Included in 'Camera Obscura Sampler Volume 2'
Two of Christopher Simmons' post-BLUETOY tracks are featured on the "Camera Obscura Sampler Volume 2" cassette compilation, a collection of unique music curated by Marc S. Tucker, editor/publisher of the Camera Obscura music fanzine and his music imprint Lone Wolf. Simmons' tracks included the "Densitelemetry" track (which later led to "VIEWPOINTS ON VIDEO" requesting to use the track for their cable TV show intro/outro theme), as well as an otherwise unreleased track "His Lover's Daughter" (which later appeared on Simmons' limited edition "Techno Sketches" CD release).
Camera Obscura Sampler Volume 1
Fall 1987 – Simmons' Music Included in 'Camera Obscura Sampler Volume 1'
Released by Marc S. Tucker, as part of his Camera Obscura fanzine endeavor, and his Concrete Dreams imprint, Camera Obscura Volume One (aka "C.O. Sampler, Vol. 1") features 21 tracks on cassette by innovative music artists of 1987. Side one, track two, showcases BLUETOY "Carerra Obselisk" (from Side B, Track 2 of Simmons' "Beserker" release). Side two features tracks 2 and 8 by The Simmons/Tucker Enigma. Also on side two, track 10, a selection from BLUETOY "Dancers in the Tranceglow."
11 Constructions
Spring 1986 – Simmons Produces/Mixes '11 Constructions' for Marc Tucker
In a creative musical collaboration, Christopher Simmons partners with the late Marc S. Tucker, editor of Camera Obscura, to "performance mix" Tucker's original album, "11 Constructions." Created on Simmons' former Teac A3340S 4-track, Tucker recorded the 90-minute album entirely with his Roland Jupiter 6 keyboard, with no effects. Simmons did a stereo mix using his many FX pedals, mixer, and Tascam mastering studio cassette deck to create the mix for both headphone and speakers. Very much a Bebe and Louis Barron meets David Lynch vibe. The album features one track, "Manhattan Sunday … with Spaceships" with Simmons on digital percussion taken from the demo tracks done by "The Tucker-Simmons Enigma" when Simmons was tutoring Tucker on how to use the A3340S.
The Tucker-Simmons Enigma (unreleased)
A 4-song EP of music created while Chris while teaching Marc Tucker how to use the Teac A3340S recorder, was never released due to various reasons. Two of the tracks ended up on the first "Camera Obscura Volume 1" sampler cassette, and two tracks ended up on "11 Constructions."
---
Cable TV and Video:
---
Video Voices
Oct. 1989 – Simmons' Music Used for 'Video Voices'
Christopher Simmons' electronica song, "Theme 89" is selected for the opening/closing theme for "VIDEO VOICES" a one-hour cable TV series airing in California. Simmons' name appears in the credits on screen. The show is produced by Martha Chono-Helsley, assistant Manager, LBMA Video Annex, Long Beach Museum of Art, as the "VIDKIDCO Children's Video Production Workshop." The program features experimental videos created by Long Beach area teens. Chris was paid a $50 honoraria for use of the song.
Viewpoints on Video
April 1989 – Simmons Music Used for 'Viewpoints on Video'
Christopher Simmons' electronica song, "Densitelemetry" is selected for the opening/closing theme for "VIEWPOINTS ON VIDEO" a one-hour video TV series airing in California across 14 cable systems. Episode #17 is the first to include the theme. Simmons' name appears in the credits on screen. The show is produced by Martha Chono-Helsley, Joe Leonardi and Michael Nash; executive producer is the Long Beach Museum of Art. Series is sponsored in part by the National Endowment for the Arts and the California Arts Council. "Viewpoints on Video" features video artist(s) profiles and video/experimental works in their entirety. Anecdotally, Chono-Helsley learned about Simmons' recordings thanks to a positive review of Simmons music by the late Marc Tucker in his Camera Obscura fanzine.