BLUETOY [1984] — The earliest work released by Christopher Simmons under this music project moniker. Includes soundtrack-style pieces, jazzy experimentation, and avant-garde expression unique and unlike anyone else's music.
This was the first release where Simmons would create electronic music insstrumental "beds" using very basic on-board sequencers for simple analog gear of the day, often linked to a drum machine clock, then do improvisational chords and melodies on top of these, played entirely live in real time to cassette tape. After many hours, he would pick out the "best" of this material and transfer to a master tape, which would then become a commercial release.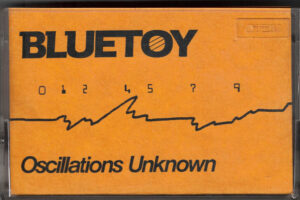 Anecdotally, Christopher's earlier work from 1983, mostly done on 4-track tape, was not his first commercial release. His 1983 music later appeared on the 1985 cassette release, "Bred for the Basement."
TRACK LIST
BLUETOY – "OSCILLATIONS UNKNOWN"
CHRISTOPHER SIMMONS recording as "BLUETOY"
• 60 minutes, cassette format release. S.U. Productions.
• Original SKU #SUP8401B normal bias; #SUP8401C chrome cassette.
SIDE A
Ooh-Aiee-Ahh (4:49)
Spokend Wordz (5:20)
Urban Hell (6:09)
TaChaKaLa (5:07)
Oscillations Unknown (4:18)
Hilites (2:18)
Closing Thought (:17)
SIDE B
Ramzataz Vers. VI (4:12)
Bubwubble (6:46)
Musings (2:30)
Hotel Star1ite (5:14)
Run For Aeiris (5:11)
Selection 0124579. (4:34)
ALL SELECTIONS WERE RECORDED "LIVE" DURING THE MONTH OF MARCH, 1984 IN TORRANCE, CALIFORNIA USA.
All material is Copr. ℗ © 1984 by Christopher Laird Simmons
EQUIPMENT USED INCLUDES:
SCI PRO-ONE, SCI PROPHET 600, SCI DRUMTRAKS, KORG VC-10 VOCODER, BOSS FLANGER AND STEREO CHORUS, MARLBORO "QUADRA SOUND BLENDER." MIXED LIVE ON A REALISTIC MIXER & MASTERED "LIVE" ON A PIONEER CT-7R CASSETTE DECK WITH TDK SA-X TYPE II 60.
---
IMAGE GALLERY
Each image thumbnail will open full size image in browser. Click "back" button to return to this page.

All material is Copr. ℗ © 1984 by Christopher Laird Simmons
---