"Omnipotent Mainframe" by ENTHRONEMENT (Kristian Kouvo) [2002/2003] — An electronic instrumental album from Finnish-born artist Kristian Kouvo. A limited edition "review copy" was released Nov. 2002 followed by commercial release June 2003. 12 tracks of world electronica instrumentals.
• Commercial CD with barcode, ISRC code embeds, shrink wrapped. Neotrope Records.
• SKU: 80153-00201-1-3 / EAN: 801530020113 / Made in USA.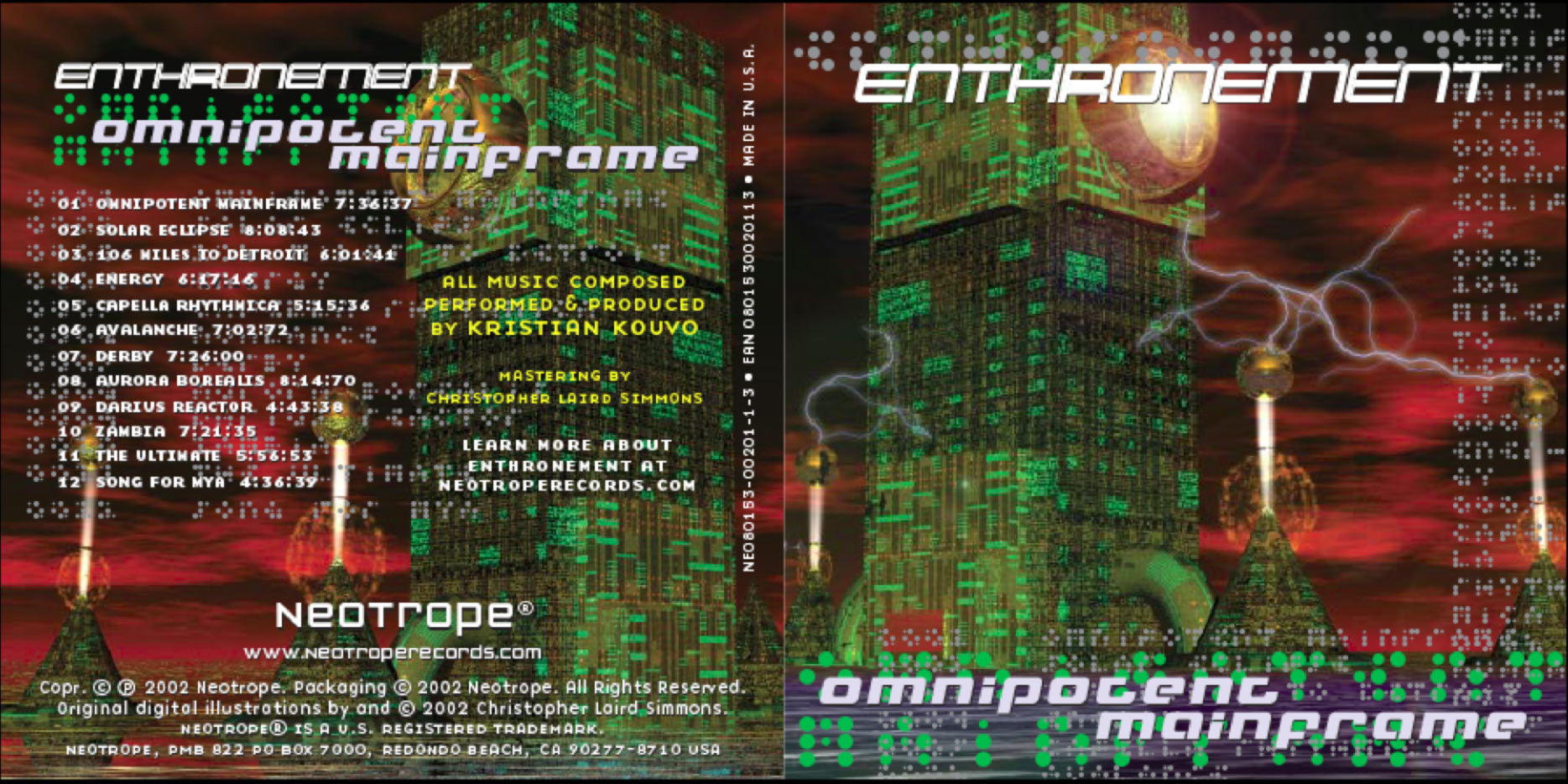 Track List: Omnipotent Mainframe 01 • OMNIPOTENT MAINFRAME – 7:40
02 • SOLAR ECLIPSE – 8:12
03 • 106 MILES TO DETROIT – 6:01
04 • ENERGY – 6:19
05 • CAPELLA RHYTHMICA – 5:17
06 • AVALANCHE – 7:02
07 • DERBY – 7:26
08 • AURORA BOREALIS – 8:17
09 • DARIUS REACTOR – 4:50
10 • ZAMBIA – 7:25
11 • THE ULTIMATE – 5:56
12 • SONG FOR MYA – 4:36
---
Short Descriptions for Each Track
TEXT BY KRISTIAN KOUVO
01. The CD-name-song and starting track, with quite peaceful ambient start. Continues to a industrial-type atmosphere, with some Japanese touch, horror & hi-tech.
02. A peaceful & frightening track. Melody style is a bit Bach-like. An industrial-type mixing the moods of hope and despair (of the world). I like the speech samples here.
03. A Detroit-techno track with 'talking robots'. A tribute to DeTroit scene and also a parody of car-culture and Detroit-car industry.
04. Progressive electronica track, where I tried to create a bit different beat from anything else out there. Came out a bit Chemical Brother'ish 🙂
05. A jungle track done in quite old-skool respecting way,but still adding also some of my own. Done some special flange effects on the 'breakdown'-part.
06. Another Detroit/ambient track. Put this together with 'Bladerunner'-scenes in mind. Synths are very lively on this one and I like the echoed oboes/trombones here.
07. An industrial track. Made originally in a 'pissed-off mood' to express willpower. Also sort of a tribute to Ministry or NIN. I like the wide harp-effect on this one.
08. A rhytmical ambience track. Thoughts of the scy – universe in mind. Could have been created with few better sounds here and there, but could not find good replacements.
09. Industrial track wich sort of simulates a world of a fully automatized nuclear plant. You could imagine the effects are moving machines. I like the rhytm on this one.
10. Etno ambient track. Mixed sound of aboriginal, africa, ambient, mysticism, etc. The idea here is to raise sympathy for the sc. 'third world'. Samples should be ok to use.
11. Another 'Bladerunner'-scene-ind-mind while created this. Personally my favorite track of the whole CD (together with the first one). I like the groovy synths here.
12. A piano song and ending theme for the CD. Originally created for my loved one for a 'present' and expression of my feelings for her. Did the job well 🙂 – worked.
---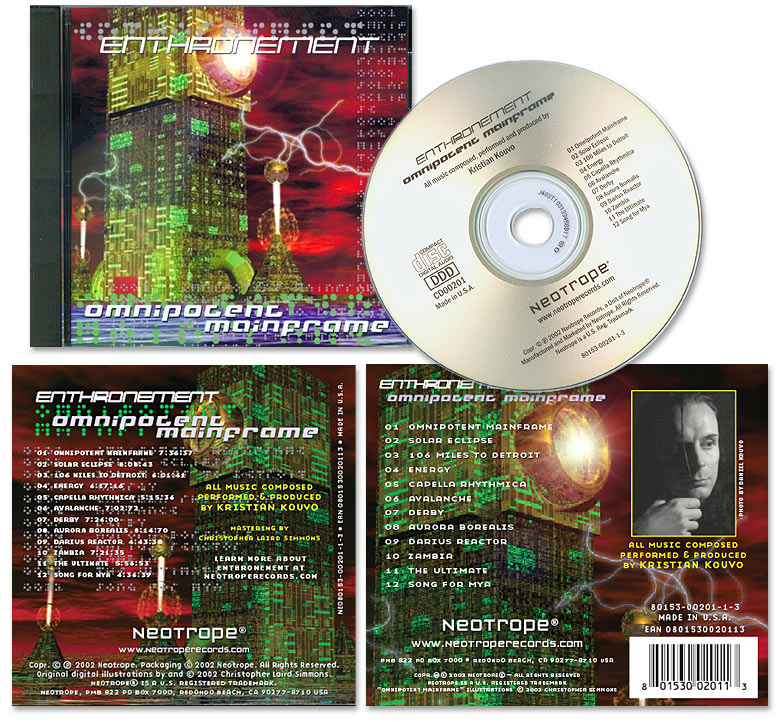 Deeper Dive Into Each Track
TEXT BY KRISTIAN KOUVO
OMNIPOTENT MAINFRAME
* One of my gothic style industrial electronica. Story here in this goes: in a future world a huge network of mainframes has become aware of itself step by step without humans noticing it. The main- frame of the mainframes consists of several smaller mainframes like neural network in the human brain, so the center of the actual system cannot be found. This system controls the whole society letting man kind believe they still are in control. The omnipotent mainframe is making statistics of every mans actions, and creates situations and market changes to control human behaviour. It aims to spread itself and its entity to the whole galaxy and intends to use humans help itself, – as long they are useful to achieve this goal. Factories creating cyborgs and androids in a long term will replace the organic life, when this entity is moving forward in the galaxy; – like an ameoba this entity will ultimately come aware also of the universe, its secrets, and truth of all essence.
AVALANCHE
* Something unstoppable has started, and humankind just must adapt themselves to the current state. Lot of people has to evacuate and seek new areas to continue their lives. There are science, technology and all the knowledge of history, but nothing has prepared mankind to this; huge meteorites are coming down from the sky.
SONG FOR MYA
* A piano song for the ones in love. A story about a goblin and a watercreature. They are in love with each other, but unfortunately they can't be together than only at the small waterfall wondering each other through the surface of the water, because the goblin can't go into the water and the watercreature cannot live outside of the water.
ZAMBIA
* The Motherland, Africa and its beauty. Also a huge waste, because it is turning more and more into a dryland. Africas glory days are fading more and more every day if no solution can be found. The people of Africa need a future too. Do we want to help providing it for them, – in terms of teaching and giving support to build it with them together? The time and future will tell.
THE ULTIMATE
* A song of urban cities in an apocalyptic future world, filled with metropolises with lights, steel, acid rain and kapitalism in its worst form imaginable. Once again; technology is 'the ultimate', but people know something has went wrong. Few people are still trying to find comfort from the old ancient religions, and are shouting help after their 'saviours'.
SOLAR ECLIPSE
* Plot: polluted future – world is dark. Human kind has finally polluted the nature and the sky so much, it is almost impossible to see the sun anymore. Nature is half-way destroyed and life is seeking new forms to survive the disaster. Humans know they have failed and are trying to survive underground with artificial light and melting ice for their life support needs. Hi-tech – low life.
ENERGY
* Energy, the original genesis and the power beyond everything there is. It is everywhere. It has always been and it always will. Indestructable power, which just changes it's form and re-creates life, universes, everything; an eternal form of a force, which could be the God of the Gods.
DERBY
* The path of an individual in the world of the masses. Willpower and volition is needed to survive.
DARIUS
* Imagine a future plot, where humans have exceeded or left our old homeplanet. Still there are structures left behind us; buildings, metal, nuclearplants… This song is a about a fully automatized nuclear plant working with full independency using robots and is controlled by a main frame. No single soul is needed to do the work. A relic of a human, while the machines does not understand to stop their work – a waste – a forgotten world.
AURORA BOREALIS
* Music for the dreamers. Look up to the sky and see all the colors of aurora borealis. Think of all the flowing energy there are in the universe, – and you are the one of the chosen ones who can see it, to feel it and understand it. We are not far from that; the childrens of the stardust. Ambient atmospheres combined with a rhytmical voyage.
106 MILES TO DETROIT
* A tribute to detroit techno and acid-scene; why not also a memorial for the mighty Kraftwerk, the pioneers of electronica and industrial music.
---