An Interview with Kristian Kouvo of Enthronement
by Carly Zander, of Neotrope Records [2002]
Tell us a little bit about you… where you're from, your background — will the real Kristian Kouvo please stand up?
I was born in the city Turku, Finland year 1971. I've been interested in alternative/experimental music and electronic noise since childhood. Our family (my parents and my brother) are all musical people and so I've grown naturally into music and it is our "second language."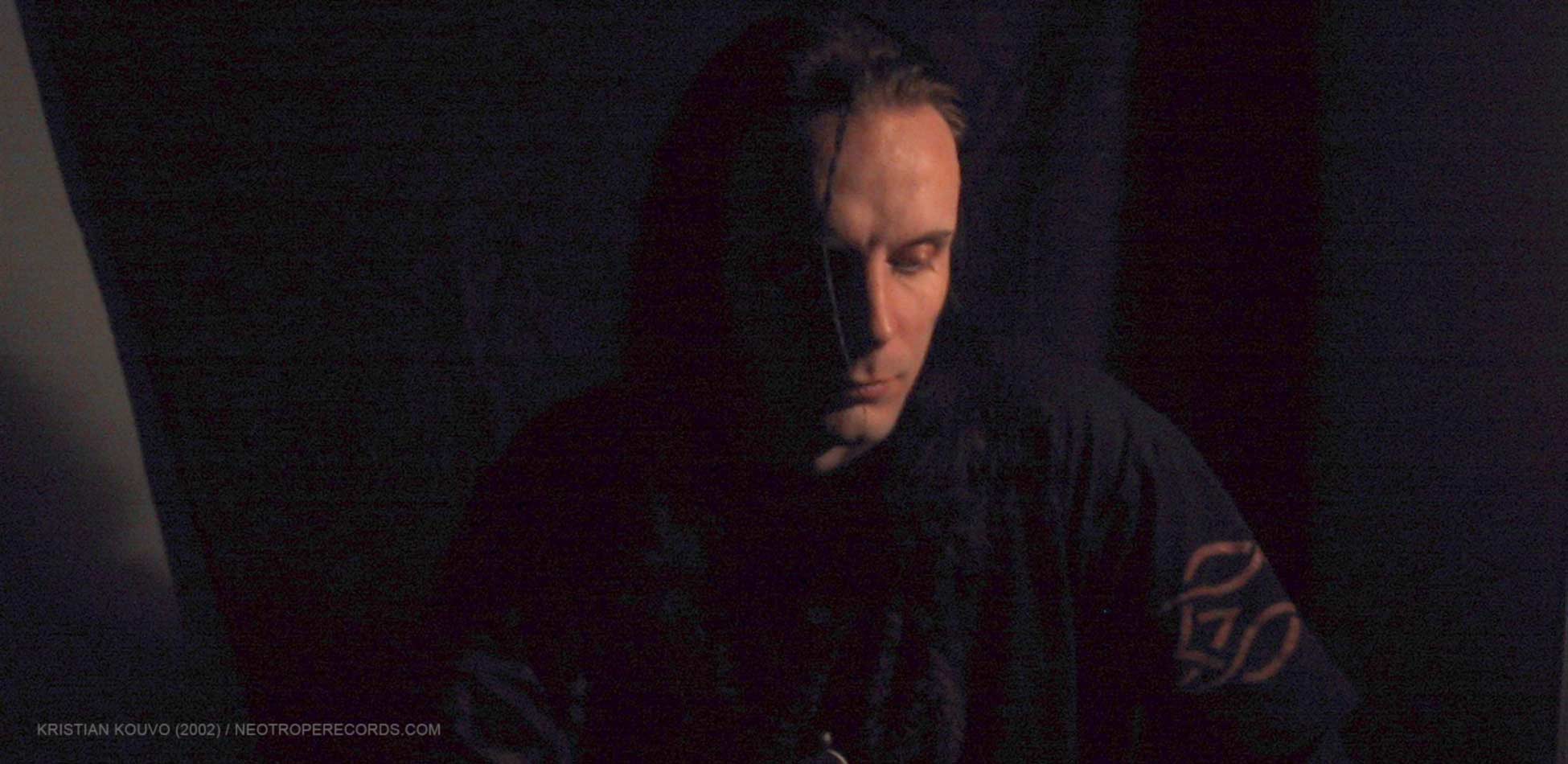 At first, we had few electronic organs, and later on synthesizers and all kinds of sound effects, delays etc. to play with. My father used to play few years in a band called "Quattro" as a keyboard player and so he naturally updated the needed equipment regularly. Me and my brother got interested in computers and especially composing with them.
In early 90's I joined a coding group called "Accession" as a musician. The machine we were using at the time was Amiga. Our target was to code spectacular demos and compete with the others out there in the scene there was at the time. We joined a few international competitions with our demos and my music got quite a bit of attention. Over the years people split, so I also left these kind of groups, but continued anyway making music for my own pleasure.
There was a time when I took a big loan and bought some MIDI-equipment, workstations etc. based around my Amiga-computer. My aim was to create "new and never before heard electronic music," and maybe release a promo. The problem was, that even though this equipment was cool and expensive, they lacked some important things to make something unique as I'd imagined. MIDI-stuff was expensive, difficult to use and hard to keep in control from track to track. Finally I lost my patience withn this stuff and sold everything. There were a couple years I didn't even own a computer.
In the mid/late-90's I bought a PC. I tried a few music programs with it and found out how powerful the new technologies can be, even just as a stand-alone composing tool — using only PC CPU-time and its audio-card. This was a changing point for me and I started to make electronic music again. This time I felt there were few limitations, and it was quite inspiring in terms of creativity. In the beginning of 2000 I found the ultimate music tool, which I've used on the new CD: Omnipotent Mainframe and will be using also in the future. It's this superior open source software: "Psycle Modular Music Studio." This great piece of software means to me a revolution in the electronic music creation arena and is the "answer to my prayers" for the way I like to compose and create. It has everything I've hoped for.
Today I live in Helsinki and currently I work as a software engineer for a software house called Profiz Solution. Depending on much of the future directions and upcoming happenings, I must choose: will I dedicate all my energy only to create music, or still continue also as a software engineer? Time will tell this and I will live day by day making my decisions step by step.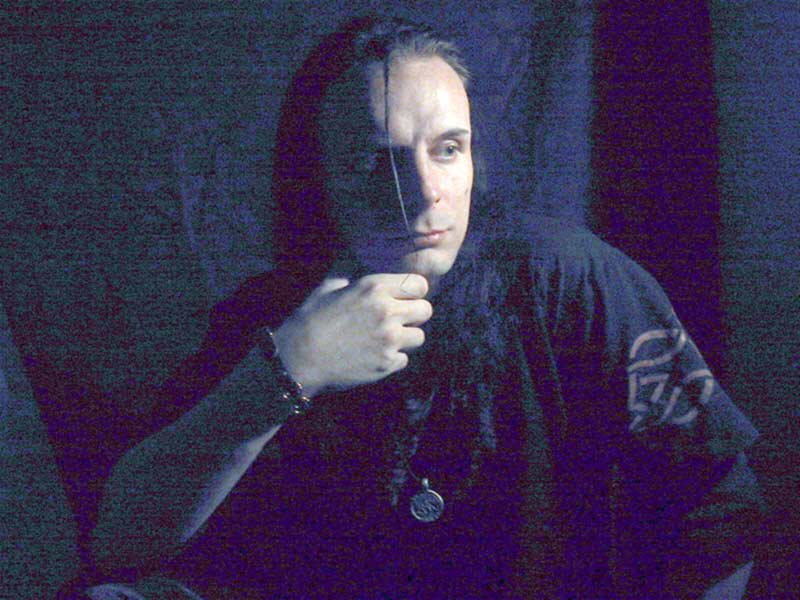 As a person I am always thinking, experimenting and creative in nature. I like to read philosophy, sosiology and science fiction among other topics. My values are based on nature; what is natural and to be natural. I think native American Indiands did know these things quite well. Living close to the arctic in Finland can also force one to respect and see the greatness in the natural world. I hope people learn to respect nature; to understand that it is our true mother which feeds us, and it will keep us healthy if we just take care of her.
I like science, technology and progress, but at the same time I can see the danger in it. Things like pollution, overpopulation, sources of energy — not to mention war and poverty are many of the things we should take care of instead of just consentrating in evolving new technological breaktroughs. The basis to all life must be taken care of too, and this means our planet, the nature and all living things in it. We should value and have more respect for each other than money. That would be a start. Well as you can see I could get easilly carried away with these kind of matters. I envisioned my music could help people think more of our world, nature and future.
Now back to who I am. Well, in the musical genre I like a lot of what's found in the electronic music scenes like ambient, industrial, d&b, triphop, chillout, goth, EBM, darkwave, electro, and so on. I would like to add something to this world of my own. I respect a lot groups like Laibach, Meat Beat Manifesto, FSOL and Orb. Also Deine Lakaien, VNV Nation, Diorama, Sigur Rus are my beloved paragons. I must say that I listen even to metal music, choirs, capella, ethnic, etcetera — but as we all know the world is full of different and beautiful music and therefore why stick with just one genre? Enjoy them all, if you can.
What inspires you to make your music today?
What gives me inspiration and motivation today to create music is life itself. All the different levels of emotions and dimensions in it. I like the idea of being a "vibrating string" which mirrors life musically; what I see and what I feel — I play it out. That could inspire something new, and again someone, somewhere will respond to my rendering of the life experience; the sound and music, and he/she could reply with his/her own way. The interpretations of life.
Based on your earlier comments, you seem to be of the new-school of using virtual instruments, instead of traditional keyboards, tape decks, and such. Why choose the virtual studio environment over traditional music gear?
I did my first experiments in terms of computer music with my Commodore-64. Later on I moved to Amiga and finally to PC. I always felt that effects machines, synthesizers and such are nice instruments, but personally I prefer to make everything with and within a computer.
I don't like the hassle with the MIDI-instruments and machines. Too much moving parts, too much to learn, too much to adjust. With a decent software-based studio you can make it all much faster and easier, and consentrate on the actual music — and hopefully all the energy and effort you've put in also can be heard. I don't need a lot hardware to feel I'm a "real electronic musician." I think the main points are that you feel "at home" with your gear and you like the sound coming out of the speakers. All other things are just a matter of taste.
You've just released a new disc, called Omnipotent Mainframe with Neotrope Records — talk about that a little: Why you made it, favorite track, the concept?
First of all, I must say "Omnipotent Mainframe" is a very dear release to me. It's my "Close Encounters of the Third Kind" to the world. It is actually a collection my best works in the late years. Only 4 tracks were specifically made for this CD, knowing they will go on the release. The other 8 tracks were originally made for different reasons; either for myself, or for some occasional happenings in my original hometown, Karjaa.
A couple of these tracks ("Aurora Borealis" and "Solar Eclipse") were played in a Millennium-party in the town of Karjaa, once the time hit 00:00. Rockets were flying, lights were flashing and these tracks welcomed our town to the new century. A few tracks were made for an art-night happening where me and my brother played computers and synthesizers for the people in an open street. This art-night has every year a lot of performers, and people play and dance through the night. This also happened in my old hometown; Karjaa. Once I did a track for a performance, which included a group of yoga-gymnastics performing their yoga routine. The themes in this performance were consentrating on the values of nature and the harmony within us.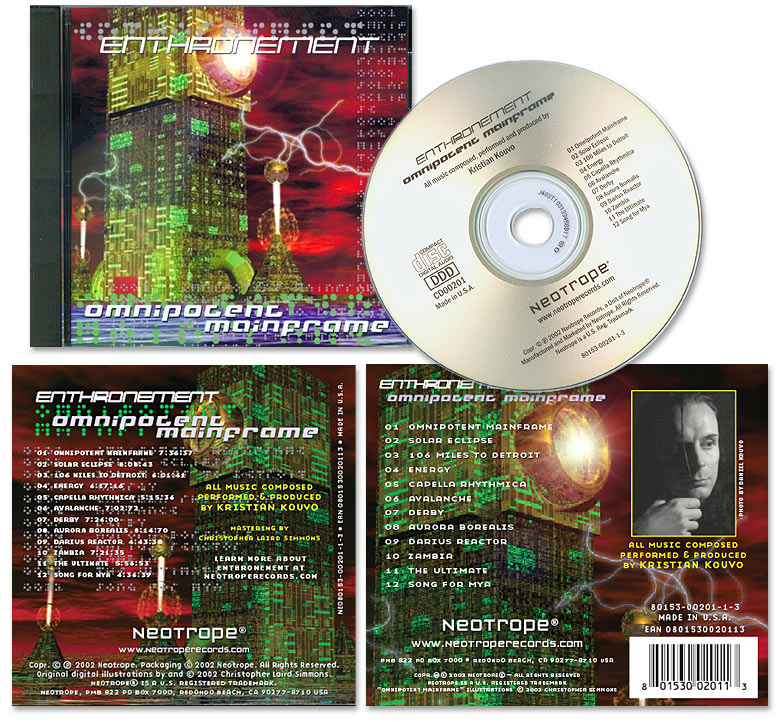 Much of my music has been inspired by movies; scifi, fantasy and such. Movies made by Stanley Kubrick, James Cameron, and Ridley Scott have had a strong impact on my work, giving me a certain state of mind when creating a song. I use a lot of imaginative scenes in my mind to make the actual sound and music. Then I try to explain the scene in my mind in the musical language. Like the painter paints the canvas and fills and constructs the picture, I fill the space and time with the elemnts of sound and rhythm.
The CD "Omnipotent Mainframe" is lot about our present state in our world and near future, even a distant future, with possible scenes of independent machine-evolution. This could be a utopia, perhaps even a dystopia, but not an impossible scene. Think of a world, where the human race has failed to uphold its life and cycle to continue as a lifeform in a polluted world, but machines continue and evolve themselves where we left off. They inherit our interest to find out all the knowledge and have all the science, curiosity, but none of our negative effects. This picture might not be very romantic, but is one of the possible future paths we have. The main track; "Omnipotent Mainframe" is about this scene, a huge self-aware mainframe building robots and machines to achieve only one goal: to find out all the secrets of the universe and ultimately becoming one with it.
Other themes of the CD are about hope in our world, like the songs "Zambia" and "Aurora Borealis." Humankind trying to solve its problems with energy, pollution and war. Maybe we one day find harmony again, and can create a stable living curve for the future and our children. The CD also has an epilogue track, "Song for Mya", which is about love really. It's also an experiment for me to make something, which is not just pure machinery [a smile]. This release is much about my thoughts and feelings and — without spoiling it too much explaining what it is — I prefer my audience to make their own judgements and feelings out of what they see and feel while listening to the music itself.
You mentioned some kinds of music you listen to and enjoy, tell us a little more about your favorite electronica artists.
Well there are many genres I like. Industrial and electronic music as a whole, with its subgenres. Ambient, electronica, drum and bass, triphop, gothic. In recent years I've had a lot of favorite artists, but I don't want to lift up just one over the others, since like there are many languages and interpretations of life, cultures there is also lot of good music and I think it's better not to classify it too much.
Well anyway, historically I can say I respect Kraftwerk a lot as a pioneer for all the electronic music we have today. In my opinion their impact has been the most effective as far as the electronic music scene we have today — still not forgetting the others there were and still are, but if I have to lift just one over the others, this is then my choice.
I could give a small list here, which is far from perfect, but gives you the idea what am listening to: Meat Beat Manifesto, Future Sound of London, Delerium, Laibach, Covenant, Luke Slater, Autechre, Ministry, Leftfield, Chemical Brothers, Portishead, Dead Can Dance, Kraftwerk, Orb, Theatre Of Tragedy, Clock DVA, Black tape for a blue girl, Curve, Takkyu Ishino & Deine Lakaien. I listen also to metal music, choirs, ethnic — you name it, I probably listen to it. Finally, I think the main thing in music is that it touches you, gives something to feel and think, something you can enjoy.
If you could accomplish only one thing in your life, what would that be?
To live a good life. Meaning things like; receive and give love, respect my fellow man, do the right thing, find harmony and peace, to spread the thirst for life, to be one with the essence of life.
---
Carly Zander is a professional freelance writer and author, and has written for numerous publications including Micro Publishing News, CrossMedia Magazine, and DigitalAuthor.com. She resides in California, USA. Copr. © 2002-2003 Neotrope – all rights reserved.
---
WAYBACK MACHINE: To view how this interview appeared originally on the site back in 2003 era, you may visit Archive-Org here: https://web.archive.org/web/20031025105946/http://www.neotroperecords.com/